Release.

The New American Romanticism
Date

30/11/2004

Catalog

Genres

Artists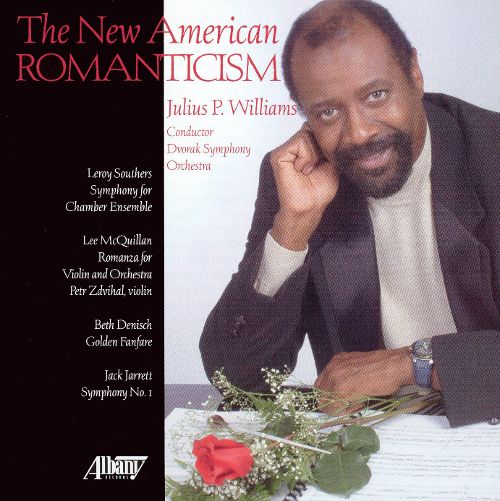 Description.
OUR ORCHESTRAL WORKS FROM AMERICANS IN THE "NEW ROMANTICISM" STYLE.
Leroy Southers was born on July 13, 1941, in Minot, North Dakota, and died November, 2003. The recipient of numerous honors and academic degrees, including a Doctorate of Musical Arts & Composition from the University of Southern California, Leroy W. Southers, Jr. was an extremely accomplished musician. Member of the Composition faculty at the Berklee College of Music in Boston, he also taught in Los Angeles at the University of Southern California and at Loyola Marymount University. His Symphony for Chamber Ensemble was composed in 1967, when the composer was only 26. Lee T. McQuillan, a resident of Middletown, Connecticut, studied music Education at Barrington College in Rhode Island and later received his Bachelor of Music in Composition from the Hartt School of Music. His principal composition studies were with Arnoldo Franchetti. Romanza, subtitled Into Troubled Times (A 9/11 Reflection) was written to remember the great loss experienced by humanity on that momentous day in September, and to honor those who suffered the ultimate loss. Originally from Baltimore, Beth Denisch earned her undergraduate degree in music composition from North Texas State University and the Masters of Music and Doctor of Musical Arts degrees in composition from Boston University where she studied with John Harbison and Bernard Rands. Golden Fanfare was commissioned by The Brockton Symphony Orchestra of Brockton, Massachusetts for their 50th anniversary in 1998 and revised for subsequent performances as recorded here. Jack Jarret is a native of Asheville, North Carolina. His academic credentials include a B.A. from the University of Florida, and M.A. from the Eastman School, a Diploma in conducting from the Berlin Hochschule fur Musik, and a Doctor of Music in Composition from Indiana University. He has studied with Boris Blacher, Bernhard Heiden, and Tibor Kozma. From 1989 to 1999, he was chairman of the Composition Department at the Berklee College of Music. His Symphony No. 1 was composed in 1996. In style, it is closer to the classical romanticism of Tchaikovsky or Shostakovich than that of Strauss or Mahler. It is in four movements.
CONTENTS:
Leroy Southers, composer
Symphony for Chamber Ensemble
Dvorak Symphony Orchestra, Julius Williams, conductor
Lee McQuillan, composer
Romanza for Solo Violin & Orchestra
Dvorak Symphony Orchestra, Julius Williams, conductor, Petr Zdvihal, violin
Beth Denisch, composer
Golden Fanfare
Dvorak Symphony Orchestra, Julius Williams, conductor
Jack Jarrett, composer
Symphony No. 1
Dvorak Symphony Orchestra, Julius Williams, conductor