Release.

The American Soloist
Date

28/09/2004

Catalog

Catalog #: 704

Genres

Artists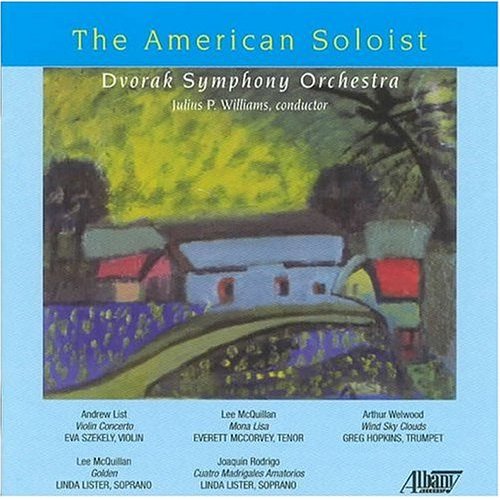 Description.
A COLLECTION OF WORKS FOR SOLOISTS WITH ORCHESTRA – BEAUTIFULLY PERFORMED.
Andrew List composes music in many different genres including orchestral works, string quartet, vocal, choral music and opera, music for children, solo works and a variety of chamber ensembles. A resident of Boston, Massachusetts, Mr. List is a Professor of Composition and Theory at the Berklee College of Music. Born in St. Louis, Missouri, List is a graduate of the New England Conservatory of Music. He received his doctorate in music composition from Boston University where he studied with Bernard Rands and Nicholas Maw. Lee. T. McQuillan, a resident of Middletown, Connecticut, studied Music Education at Barrington College in Rhode Island and later received his Bachelor of Music in composition from the Hartt School of Music. Arthur Welwood is a Professor of Composition at the Berklee College of Music. Wind Sky Clouds, commissioned by jazz trumpeter Greg Hopkins, was completed in the summer of 2003. The premiere performance took place in Hartford, Connecticut on November 16, 2003, with Hopkins playing the solo trumpet and flugelhorn and Tibor Puszati conducting the Connecticut Valley Chamber Orchestra. The piece is an example of "Third Stream," a phrase first coined by composer Gunther Schuller to describe the fusion of jazz and classical styles and where the crossover from one to another in the course of the piece is blurred and often imperceptible.
CONTENTS:
Andrew List, composer
Violin Concerto
Dvorak Symphony Orchestra, Julius Williams, conductor, Eva Szekely, violin
Lee McQuillan, composer
Golden
Dvorak Symphony Orchestra, Julius Williams, conductor, Linda Lister, soprano
Lee McQuillan, composer
Mona Lisa
Dvorak Symphony Orchestra, Julius Williams, conductor, Everett McCorvey, tenor
Joaquin Rodrigo, composer
Cuatro Madrigales Amatorios
Dvorak Symphony Orchestra, Julius Williams, conductor, Linda Lister, soprano
Arthur Welwood, composer
Wind Sky Clouds
Dvorak Symphony Orchestra, Julius Williams, conductor, Greg Hopkins, trumpet