Release.

Places in Time
Date

11/12/2007

Catalog

Genres

Artists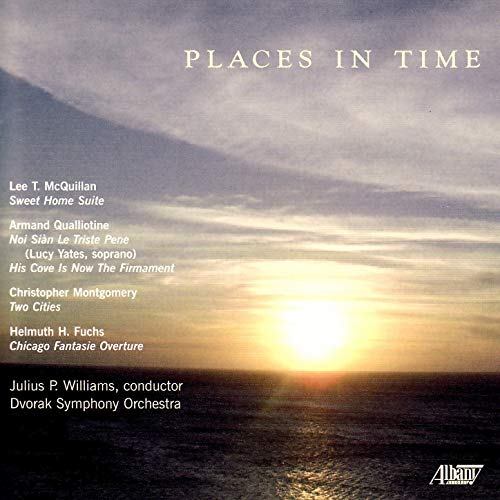 Description.
PLACES IN TIME • Julius P. Williams, cond; Lucy Yates (sop); • ALBANY TROY 980 (60:12)
MCQUILLAN Sweet Home Suite QUALLIOTINE No siàn le triste pene.1 His Cove Is Now the Firmament. MONTGOMERY Two Cities. H. FUCHS Chicago Fantasie Overture
Each work on this disc of music by living Americans is tied to a very specific place: certain cities, in most cases, but also places as intimate as a poet's desk. Lee McQuillan's Sweet Home Suite is a quarter-hour tour of his Connecticut hometown. The first movement, "The Coffee House," is chattering, quick, and colorfully orchestrated, including accent percussion. "Strange Bedfellows" deals with town politics, not sex; it's uneasy, with wisps of material quietly contending with each other, rather like the less burlesque passages of the scherzo of Mahler's Sixth Symphony. "The Last Farm" is a pastoral elegy, and "Along the River" sounds a little like Virgil Thomson, but is less blocky in its orchestration.