Details.

OneWorld Festival
OneWorld Orchestra Concert
We are pleased to announce the finalists for the 2019 OneWorld Concerto Competition! One of these musicians will be the featured soloist at the event's opening concert, on June 29, at 8pm, at Evergreen Church, Leesburg, Virginia accompanied by the OneWorld Camerata, under the baton of Maestro Julius P. Williams. Congratulations, musicians!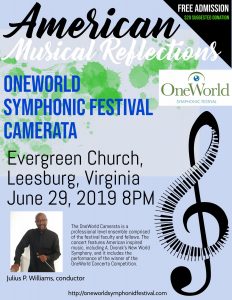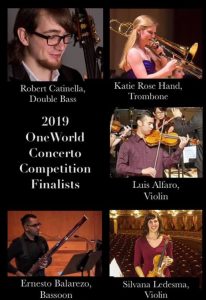 ONEWORLD SYMPHONIC FESTIVAL TO TAKE PLACE IN LEESBURG THIS SUMMER
Ashburn, VA (June 6, 2019) – From June 26 to July 6, 2019, musicians from all around the world will come together in Leesburg for the OneWorld Symphonic Festival. After days full of rehearsals, classes and cultural growth and recreational activities, the musicians will perform as a single symphonic orchestra in various locations around the metropolitan area. All concerts are free, with a suggested donation, and appropriate for the whole family.
The mission of the OneWorld Symphonic Festival is to present music world class performances exemplifying world unity and harmony by the participation of musicians from many countries. OneWorld is committed to promoting international understanding and cultural diversity through musical collaboration. The participating musicians enjoy an opportunity to learn from world renowned conductors and faculty, while sharing with one another their musical abilities and experiences.
The OneWorld Symphonic Festival is the offspring of the International Youth Orchestra, which has been providing quality performances in Northern Virginia, Washington, D.C. and abroad since 2004. The members of the orchestra are professional musicians, college students majoring in music performance and advanced young students of music. Acceptance into the orchestra is merely by merit, through an audition process. OneWorld includes the participation of local youth and professional musicians.
20 volunteer local families are still needed to host the visiting musicians. The host families offer room and board (June 26/8 – July 7) and transportation to and from local rehearsals and concerts, as possible. All event information can be found at www.oneworldsymphonicfestival.com
The event is being organized by the two 501 (c) non-profit organizations OneWorld Symphonic Festival Organization and Youth Music Preservation and Promotion Association. Tax-deductible individual and corporate financial donations are greatly appreciated. Contact us at info@ymppa.org, or call (703) 628-2589 for more information.
CONCERTS
American Musical Reflections with the OneWorld Camerata
Featuring American inspired music, including A. Dvorak's New World Symphony, and featuring the winner of the OneWorld Concerto Competition. Conductor: Julius P. Williams
June 29, 8pm, Evergreen Church, Leesburg
World Music Showcase
Music from around the world performed by small ensembles of OneWorld participants.
June 30, 7pm, Ida Lee Park Lower Level, Leesburg, Virginia
Open Rehearsal of the OneWorld Festival Orchestra
The audience is invited to visit the orchestra and see the musicians at work.
July 3, 7pm, Ida Lee Park Lower Level, Leesburg, Virginia
Music Under the Stars with the OneWorld Festival Orchestra
Full repertoire conducted by international guest conductors.
July 5, 8pm, Reston Town Center Pavilion, Reston, Virginia
Gala Concert of the OneWorld Symphonic Festival Orchestra
Final concert of the event, featuring the majestic "Organ Symphony" by C. Saint-Saens, with David Lang, organist; and Gabriela Bohnett, conductor. July 6, 7pm, The Falls Church Episcopal, Falls Church, Virginia